The Oklahoma Sooners: 2015's Surprise team?
Updated: December 14, 2015
Prior to the 2015 college football season, the Oklahoma Sooners were not much more than an afterthought throughout the college sports landscape. It was said with OU coming off a disappointing 8-5 2014 season, along with a 180 on offense as Lincoln Riley took over the Offensive coordinator position, that the Sooners were not ready to win.
The Sooners, while sporting a load of talent on both sides of the ball, would struggle in their transition from a heavy run team to Riley's new Air Raid style offense. However, as the season began as for the Sooner players and coaching staff didn't get the message from the rest of the world that they weren't supposed to be great.
OU's walk on QB transfer Baker Mayfield was given the chance of starting over struggling incumbent quarterback Trevor Knight.
Mayfield who transferred from Texas Tech, fit perfectly in Riley's new offensive style. Mayfield brought with him more than an accurate and strong-arm to Norman. As the season progressed, fans started to see a new and electric energy surging through the Sooners, jump started by Mayfield's intense and competitive personality.
The Sooner's wide receivers lead by senior Sterling Sheperd, Durron Neil and Dede Westbrook benefited from their new QB and offensive style well-known as an Air Raid attack.
Shepard had a breakout season with 79 catches for over 1200 yards, averaging 15.2 yards per catch. Westbrook and Neil had a combined 84 catches and 1202 yards receiving. Freshman TE Mark Andrews at 6'6″ 247 lbs. tied Sooner great, WR Ryan Broyles with 6 TD receptions as a freshman.
Mayfield threw for 3389 yards with 35 TD's and only 5 INTs giving him a 282.4 average yards per game. Although Baker was left out of the Heisman Trophy finalist, he did receive the Burlsworth Award given to the most outstanding walk on player of the year. The Sooners new explosive pass game was well complemented by two future NFL caliber running backs Samaje Perine and Joe Mixon. During the 2014 season the NCAA was introduced to Freshman RB Samaje Perine.
Perine rushed for over 1700 yards and 21 TDs, while also breaking the NCAA single game rush record with 427 yards. The question coming into the 2015 season was how would these two tackle breaking, punishing runners would fit in the Sooners Air Raid offense.
It didn't take long to see how Mayfield's success in the pass game was elevated by the OU RBs ability to make their opponents defense take notice.
With play action Mayfield kept the defense on their toes. Perine rushed for 1291 yards and totaled 1365 all-purpose yards and 16 TDs. As for Joe Mixon he showed how dangerous he can e in the run and pass game with 1094 all-purpose yards and 11 TDs.
With the accurate passing by Mayfield, and explosive rush game the Sooners quickly turned into a well-balanced dual threat offense.
Oklahoma has also showed up on the defensive side of the ball. They are making tackles that were missed last season, and their secondary lead by All-American CB Zack Sanchez picked off the ball 19 times this season.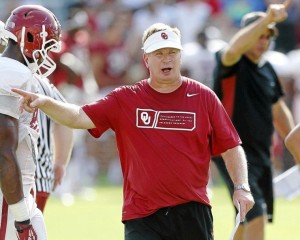 Defensive Coordinator Mike Stoops had his job made easier up front with leaders Charles Tapper and every QBs nightmare Eric Striker. The Sooner defense had a total of 38 sacks on the season.
With the Sooners in at number 4 and a strong opponent in the college playoffs, they are set to faceoff in their first playoff matchup against the number 1 ranked Clemson Tigers on DEC 31st in the Orange Bowl.
It is unlikely that the Sooners have forgotten the 40-6 beat down Clemson handed them a year ago in the Russell Athletic Bowl. Although this is not the same Sooner or, Clemson teams as 2014. Expect the OU defense to show with a chip on their shoulders.
It would not be asking much for this Sooners D to put a strangle hold on the Clemson offense, and the Sooner offense to play keep away while they knock Clemson off-balance by mixing the run and pass up. There is one thing for sure; the Clemson Tigers have not faced as high-caliber an offense as they will when they face the Sooners.
This might be nothing short of sweet payback for the Sooners as they look to advance to the National Title Game.