Arsenal's Issues Are Deeper Than We Think
Updated: September 1, 2015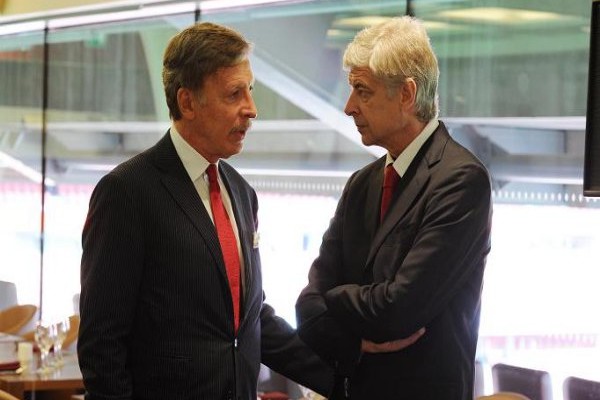 For the past two seasons, Arsenal F.C. fans have been happy to look at two F.A. Cup trophies while thinking to themselves, "The worst of it is finally over." The 9 year trophy drought that ended with the 2014 F.A. Cup win against Hull City finally signaled what we all thought would be the reemergence of the Arsenal we loved under Arsene Wenger prior to 2006.
But in actuality, we've all been played for fools, and it's time that we as fans, supporters, or what ever moniker you care to claim for the club, start pointing the fingers at more than Arsene Wenger for the club's current lack of ambition. For years the Arsenal fan base has been split on embattled manager Arsene Wenger's reign as gaffer.
There is the "Wenger Out" section of the fanbase who feel his tenure has long run its course and he should pass the reigns to a younger manager with fresher ideas and more passion for winning. There are the "Arsene Knows Best" supporters that want to see Wenger regain his past glory and prove to the world that Wenger went years without a trophy in order to have the Emirates built, and to provide a long-lasting legacy for Arsenal.
Then there are those in the middle who are teetering on the fence as neutrals who see both sides of the argument but aren't far left or right on the matter.
I will say this to all the supporters, we are all looking at this situation all wrong, and the biggest enemy to Arsenal's fight to regain European prominence is not only from the man we see walking the touchline every match guiding the team, but it's from the man you never hear from or ever see, Arsenal's majority shareholder from America, Stan "Silent Stan" Kroenke.
Silent Scam Kroenke?….
Stan Kroenke owns 4 professional sports teams in the United States of America: The St. Louis Rams, Colorado Avalanche, Denver Nuggets and the Colorado Rapids. Kroenke has owned the Rams since 1995, the Avalanche and Nuggets since 2000, Major League Soccer's Colorado Rapids, and has various other holding in sports teams or sporting goods stores. Out of all his years of ownership of his four major American sports teams (Rams, Avalanche, Rockies, Rapids) Kroenke's teams have won only 3 championships in total.
For those of you who are counting at home, that's 20 NFL season as either the majority or sole owner of the Rams, 15 NBA seasons as owner of the Nuggets, 15 NBA seasons as owner of the Avalanche, and 10 seasons as owner of the Rapids. So out of a combined 60 seasons (give or take a few) his teams have won the entirety of three championships. That's appalling.
But, when you're worth 6 billions of dollars, and your revenue is streaming from all your different sports ventures, and in American sports your teams do not have to worry about relegation, winning isn't the end all be all. Making money is.
Stan Kroenke did not become a billionaire by not finding the right venture to buy into using his Kroenke Sports Enterprises label.
The name of the game for Kroenke isn't winning; it's having his teams be viable enough to make a killing in the financial reports.
Enter the English Premier League. Over the past 15 years the EPL has seen an influx of foreign ownership from Russia, the Middle East, and America.
The EPL is one of the most exciting if not the most exciting Football league on Earth, and with that title comes billions of dollars from the increased viewership from around the globe.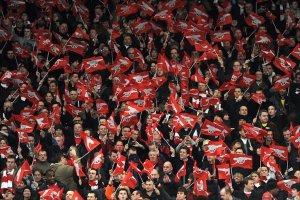 In 2011 Stan Kroenke became the majority shareholder in Arsenal by owning 66.76% of the club's shares. Kroenke saw the writing on the wall from early, and knew he had just purchased the shares of an absolute cash cow at Arsenal, and he was correct.
The EPL has never been more popular in America or around the world, and with it, comes endorsements and billions of dollars from television contracts with major networks.
The recent bidding wars amongst the major American outlets should let the world outside of America know how important the EPL TV rights are becoming.
As an Arsenal fan in America, I am privy to more games on TV than fans in England, and that perverse reality should tell you how important the EPL is to these billionaire's bank accounts.
Year after year, Arsenal fans are told by Ivan Gazidis or Kroenke, or some other higher-up at Arsenal, that the club has a "Massive War Chest" that will be used on transfers, and year after year, us fans wait for that one enormous prize to come to Arsenal.
To be fair, the captures of Mesut Ozil, Alexis Sanchez, Santi Cazorla and Petr Cech are certainly nothing to scoff at, but there's an illusion behind every single one of those transfers; I will get more into that in a bit. You ever wonder why it is that Arsenal keeps falling just short of doing what is necessary to win the EPL crown the past few seasons?
The current Arsenal squad is possibly two more world-class players away from truly running riot on the premier league. But, doesn't Arsenal always seem to be just 2-3 players away the past few seasons?
Why is it that the club will certainly purchase quality, but lack the ambition to purchase quantity when the funds are available?
That's down to two men, Arsene Wenger and Stan Kroenke. I'll give you my take on Wenger shortly, but for now, humor me with this next bit on Kronke. In October 2014 it was revealed that Kroenke took £3 million pounds out of Arsenal for what the club deemed were "strategic and advisory fees" and were paid to Kroenke's Kroenke Sports Enterprises (KSE).
What exactly entails strategic and advisory fees? And what can an American holding company advise a club like Arsenal that's a footballing power on, is my question.
Did they advise the legendary football manager on tactics? Did they advise Wenger and the coaching staff on great players that the club eventually won't spend money on? It's quite puzzling.
And why is the billionaire owner taking money from the club while the club is systematically raising ticket prices? According to BBC Sport, Arsenal has the highest single game and season ticket prices in the country. Arsenal's season ticket prices are higher than 17 other EPL clubs.
Granted they're a big club from one of the biggest cities on the planet, but Arsenal surely haven't been winning like a big club in about a decade, so something is not adding up here. Arsenal are bringing in gate revenue, TV deal money, kit deal money and whatever other endorsement money there is; yet the club is always in positive net spend by a wide margin in the transfer market.
The 2015 summer transfer window just closed with Arsenal's only purchase being Petr Cech for £11 million pounds.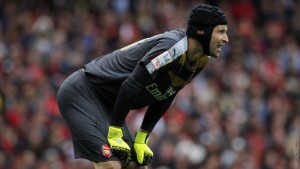 So potentially the club left anywhere from £70-£200 million in this magical war chest to collect dust. This is where the trickery comes in.
Every year the money goes untouched, it just rolls over to the next window, and the same exact money that isn't spent one year, is there the next. Meaning the money that could be used to replenish a transfer kitty is not needed if the transfer kitty is already full. And the money that would normally be used to replace the out-going transfer money?
That money goes back into the club and into the abyss of Lord knows whose pockets. I would venture to think though, the majority shareholder Stan Kroenke sees a good portion of it, and is quite happy about that. Even though I feel Stan Kroenke is the biggest enemy to Arsenal, his team's manager, Arsene Wenger, has his own share of the blame.
Arsene Wenger's Power is Too Absolute…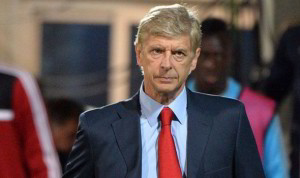 If you ever read anything about Stan Kroenke, you'll see that the reason he is referred to as "Silent Stan" is not only because he is a quiet man by nature, but also because he rarely gets involved in any of his team's day to day operations.
If he can't manage sports teams in the country he is from, then trying to run a football club as massive as Arsenal is akin to speaking a foreign language.
So in his stead, he leaves the club footballing operations to Gazidis and Wenger, and here in lies a major obstacle that Arsenal may not ever overcome with Wenger wielding so much power, and the owner happily obliging it. Arsene Wenger is a footballing genius, and that can't be questioned by anyone.
He's brought us some of the greatest football teams the world has ever seen at Arsenal, and he should always be commended for it. But he is a football manager, and that's where the majority of his power should remain. Since Wenger is the transfer market Czar at Arsenal, and Kroenke either doesn't know enough or care to know enough about the sport to question what the club needs, Wenger can do as he pleases, or, lack there of.
Wenger is trapped in a bygone era where in his head, each player has a valuation, and unless the player's price tag meets that valuation, Wenger will refuse to budge. It was commendable years ago, but now, it's foolhardy.
Wenger has refused to fully adapt to what needs to be done when it comes to purchasing the players needed for Arsenal to thrive and win titles on multiple fronts.
And his blind loyalty to the player's he's purchased has left his faith unpaid in regards to Champions League and EPL success for 11 seasons.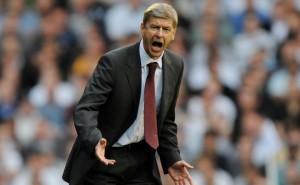 Call Wenger a football idealist, call him a romantic, call him a genius, because he is all those things. But what we shouldn't be calling Wenger is Judge, Jury and executioner.
There is no one at the top who has the power to challenge him other than the one man who doesn't care to, and that's Kroenke. Earlier I told you American sports have no relegation, so Kroenke's teams will always get their share of their respective league's annual revenue distribution.
That's not the case in the EPL. Relegation and not finishing in the top four for a club like Arsenal is a financial death sentence that Kroenke and Wenger will never allow. So, Kroenke puts enough "faith" in Wenger to get into the Champions League, meaning the CL money is always guaranteed, as is the TV money from staying in the EPL.
That process is then done over and over so it's rinse and repeat. It's all a mirage ladies and gentlemen.
The Arsenal supporters are currently being privy to the world's greatest smoke and mirrors show. Wenger is given enough leeway to get the club in a position to have fans thinking every year we are just close enough to be special, while in actuality he's just balancing the books and making Kroenke and the board richer.
Meanwhile, fans are left to argue about netspend trophies, but we are never able to argue with fans about recent on-field trophies.
This would never happen at Chelsea under Roman Abromovich, or at Manchester City under The Sheiks. Reason being, those owners want to win just as much as the fans do. And if winning isn't happening, then managers are sent packing.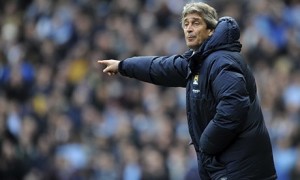 No manager is safe at either club, and the owners let them know they can spend all the money they want, but if they don't, that's to their detriment, so either spend and win, or don't spend and you'll be fired for not winning at the end of the season.
The managers at these big clubs in England, and in big clubs all over Europe know that winning is their only job security. But Wenger keeps getting extensions and keeps pointing to how he built the Emirates. Enough is enough.
But if there is no pressure from the top, then there's no pressure to go above and beyond to do what is necessary to achieve the ultimate goal of winning numerous titles in this current sports climate.
And as long as Wenger keeps getting players that were basically forced out of their clubs or wanted to stay in London (Ozil, Sanchez, Cech) and is not having his hand forced to do what's needed to pay the big bucks to get more than one marquee player per window, then this current Arsenal, is the Arsenal we will see for a long time to come.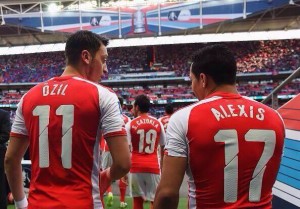 I'll never stop supporting Arsenal from here in America, and I know the supporters in England will never stop going to the Emirates and to away matches to support our boys. People may read this article and think I am a Wenger out person, on the contrary, I would love to see Wenger bring the club back to the Invincibles era of dominance.
But unfortunately, nothing changes if nothing changes. Kroenke knows that the fans will take their ire out mostly on Wenger, while still supporting the club non-stop.
The scary part about that is, Stan Kroenke and the board are fully aware that as long as they do just enough winning, the fans will piss and moan and hold protests, wave banners and use silly hashtags on social media to show their anger, but on match day, all eyes will be on Arsenal.
And once that startling reality hits you, you've finally realized that Arsenal's Banter years weren't finished on that sunny Saturday in May 2014 when Arsenal finally ended the trophy drought.
But on the contrary, the real Banter is us thinking we are so close to being dominant again, while in actuality, we may be just as far away as we were before.
Follow @LSN_Frantz on Twitter