Jurassic World: A Blockbuster 22 Years in the Making
When it comes to remakes and reprisals of roles of legendary movies, I'm usually quite the pessimist. Once I see Hollywood brings back a movie, or movies from my childhood to give the franchise new life, it always bugs me deep down inside.
I always feel that movie studios are going to put out a subpar remake, and taint the name of a once great franchise. So leading up to Jurassic World, you can understand (I hope) my trepidations about it. Jurassic Park is one of the 10 greatest movies ever for me, and after the woeful products that were Jurassic Park 2 and 3, Jurassic World was an early contender for my crap list.
But, I will be the first to admit that I haven't ever been more wrong of anything in my movie watching life. Executive producer Steven Spielberg and director Colin Trevorrow recaptured what made the original such a blockbuster; they didn't over think the room. This movie was supposed to be visually appealing, and a non-stop action ride for moviegoers. And that is why this blockbuster checked off all the boxes.
Never Forget Your Roots…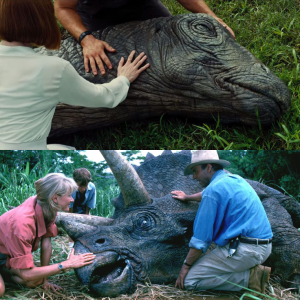 I was under the impression that Jurassic World was a stand-alone remake and would have nothing to do with the original. I was pleasantly surprised when the name John Hammond was spoken early in the movie.
Once we finally got a look at the island in the scene where the two young stars Gary (Ty Simpkins) and Zach (Nick Robinson) opened their hotel room balcony and we got to see the beauty that is Jurassic World along with that amazing theme music, I knew I was about to enjoy myself for the next two hours; and I was right.
There was so much about this movie that reminded me of the original. From the old Jeep Cherokee's and the goggles from the first movie, to certain characters reprising their old roles like Dr. Henry Wu, that the shear nostalgia of the original movie made me feel like a kid again.
As much as Jurassic World was able to hold its own without having to shove the original in our faces, the throw back information and props from the just enhanced the film so much more for me. You can see Spielberg's handprints all over this film, and we shall never forget that Spielberg is one of the greatest directors ever, so director Colin Trevorrow had the right man guiding him on this. The plot of this film wasn't overly complicated which seems to have turned a few people off.
But the addition of hybrid genetically created dinosaur, and the calamity that would surely ensue because what else can possibly happen at Jurassic Park, is what makes this franchise so fun. And the men behind the camera never forgot that, and they worked it to perfection. But as amazing as the men behind the camera were, it's the man who was in front of the camera that really set the film ablaze.
Jurassic Pratt…..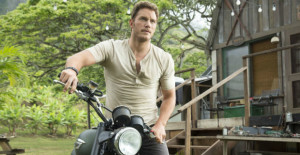 Chris Pratt is steadily climbing into the world's psyche as one of Hollywood's most exciting talents. He followed up his performance as Star Lord in Guardians of the Galaxy with Jurassic World, and it's evident that he's on a trajectory to some place special in the acting world. The best part of Pratt's character in this film was how he became a hybrid of the amazing duo of Sam Neill and Jeff Goldblum.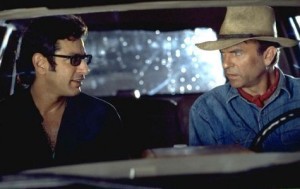 Pratt's character was witty, intelligent, charming, hilarious, brave and selfless, which made his character all that much more endearing to the audience. The scene towards the end when Pratt, leading lady Bryce Dallas Howard and the two youngsters were surrounded by the raptors took me back to the iconic scene in Jurassic Park where the T-Rex saved everyone's bacon from the Raptors. Pratt is an excellent leading man and did exactly what the movie needed him to do, be an alpha male while not trying to overact and win an Oscar. And the movie definitely benefitted from it.
Jurassic World was such a great time at theaters that I've recommended all my friends to go see it, maybe even watch it twice. It's been a long time since a movie that followed long after a classic original made me this happy. Jurassic World is an immense film, and we are all that much luckier for being able to go back to that island. Long Live the Dinosaurs…sorta.