Ronaldo & Messi: Greatness Has No Time Measure
The World Cup is supposed to bring the best out of players because this is the competition that rises above all other tournaments in World Futbol. The entire World is Watching for 6 weeks as some of the best players on Earth compete to raise the World Cup trophy. But this generation of stars is led by two All-Time Greats, Lionel Messi and Cristiano Ronaldo.
Neither player seems to ever reach the same heights with their National teams as they do with their club sides Barcelona and Real Madrid respectively, and there can be numerous reasons for this. I don't want to call their patriotism into question because I know they both love their countries. It's more that they do not have the same amount of quality in their club sides than they do in their national teams. At National level both players are asked to do more and it always comes off as they aren't playing as hard for their country.
In both games they have played in this World Cup the two greatest footballers on Earth have cut anonymous figures for nearly the entire game. But just like with all-greats, the difference between them and everyone else is that all it takes it 11 seconds of individual brilliance to show the world why they are the best. Messi's goal to win the game for Argentina was pure individual greatness by Argentina's number 10 maestro. We've all seen Messi replicate this feat on countless occasions for Barca, and now the world is seeing it replicated on the big stage in Brazil. Marvelous goal by Messi the great:
It's the exact same situation from Ronaldo. The things he is able to do at Real Madrid seem otherworldly to us mere mortals. He's a one-man wrecking ball and has done his damage with the Royal Whites all over Europe. But in the games he plays for Portugal, he is left to do too much alone. Ronaldo will have moments where he wows the hundreds of millions watching around the world an he makes it look easy. 
But he is not scoring 2,3, or 4 goals for fun like he does with Madrid. But like Messi, Ronaldo can have a sub par game by his standards for 90+ minutes, then pull a bit of magic out of his hate like Zinadine Zidane did in the Champions League Finals against Bayern Leverkusen. And this time it was at the expense of the Americans: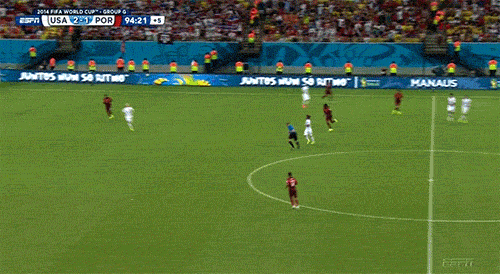 That pass was sublime and only a few players on Earth could have made that pass…unfortunately for the Americans, Ronaldo is one of those players. We can not ever look at a game and say "well he wasn't great for most of the game" because when it comes to Messi and Ronaldo, greatness can't be measured by what they didn't do for 90 minutes. Their greatness must be measured by what they did when it mattered most. This hilarious tweet pretty much summed up what Ronaldo did to the Americans:
Ronaldo deadass just grabbed every Americans soul out of their chest and then walked out the stadium.

— Giuseppe ZOnotti (@NewGodLo) June 22, 2014
And this tweets is a perfect description of the greatness that is Ronaldo and Messi:
@LSN_Frantz @borgerdinho @hughwizzy there's a good quote. "even when you play bad, and still influence the match, you're a special player." — #Anonymous Brutus (@SebasxQuinchia) June 23, 2014
Enjoy these players because they are a once in a lifetime sight to see ladies and gentlemen.
Follow @LSN_Frantz on Twitter