Sorta Power Rankings Week 2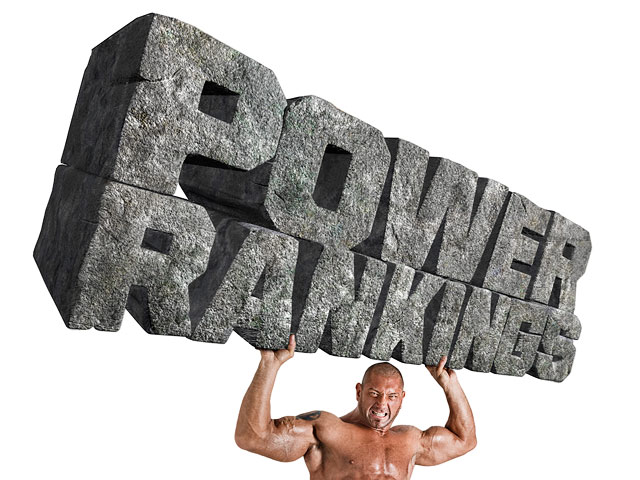 Every week the writers of La Sportsa Nostra will get together and come up with our parody of the NFL power rankings. This page came about from us looking at some other NFL power rankings and laughing hysterically at what other sites have for NFL teams from 1-10. They are obviously comedians…so we will try to be comedians also. Enjoy!
1. All the pink in football and every other sport for breast cancer awareness. Shout out from the entire LSN family to anyone who has ever donated anything or participated in anything involving breast cancer awareness.
2. Women killing it in sports broadcasting. So many amazing female sportscasters like Jackie MacMullan, Michelle Beadle and Jemele Hill on TV now. Let's keep pushing for this to continue forever.
3. Jax Teller and Sons of Anarchy. Really good show, and great leading man. Best damn biker since…well we don't know any bikers other than Ghost Rider…(Shameless comic book plug)
4. Hugh Jackman movies. If you haven't seen Prisoners, we'd advise you see it. Have the kidnappers never seen Wolverine movies?? Why mess with this man's children? (Also…shameless comic book plug Dos…)
5. Dumb Celebrities saying even dummier thangs on Twitter. God Bless you American social media creators. God bless you straight to hilarity.
6. Graffiti artist Banksy being in New York for the next month and tagging up the city. (If you don't know who Banksy is, we suggest you watch the movie Exit through the Gift Shop and find out who the man is for yourself)
7. Kate Upton with the Upton brothers on the S.I. cover. Kate Upton and sports, thank the Heavens for this union.
8. Dallas Cowboys owner Jerry Jones still using a flip phone. (Us, "Jerry you still use still don't own an iphone?" Jerry, "I'm sorry, you still don't own an NFL franchise?" Checkmate Jerry Jones.
9. The Tumba Ping Pong Show "When awesome isn't enough." We came across this video because it was trending on yahoo. We think it's BS, but we also know it's awesome.  http://news.yahoo.com/blogs/trending-now/internet-calls-bluff-on-incredible-ping-pong-video-173954431.html?vp=1 
10. When bar-tending goes horribly wrong. We don't even know what to make of this. Get well soon? Yeesh.