The Redemption of John Lackey.
Updated: October 21, 2013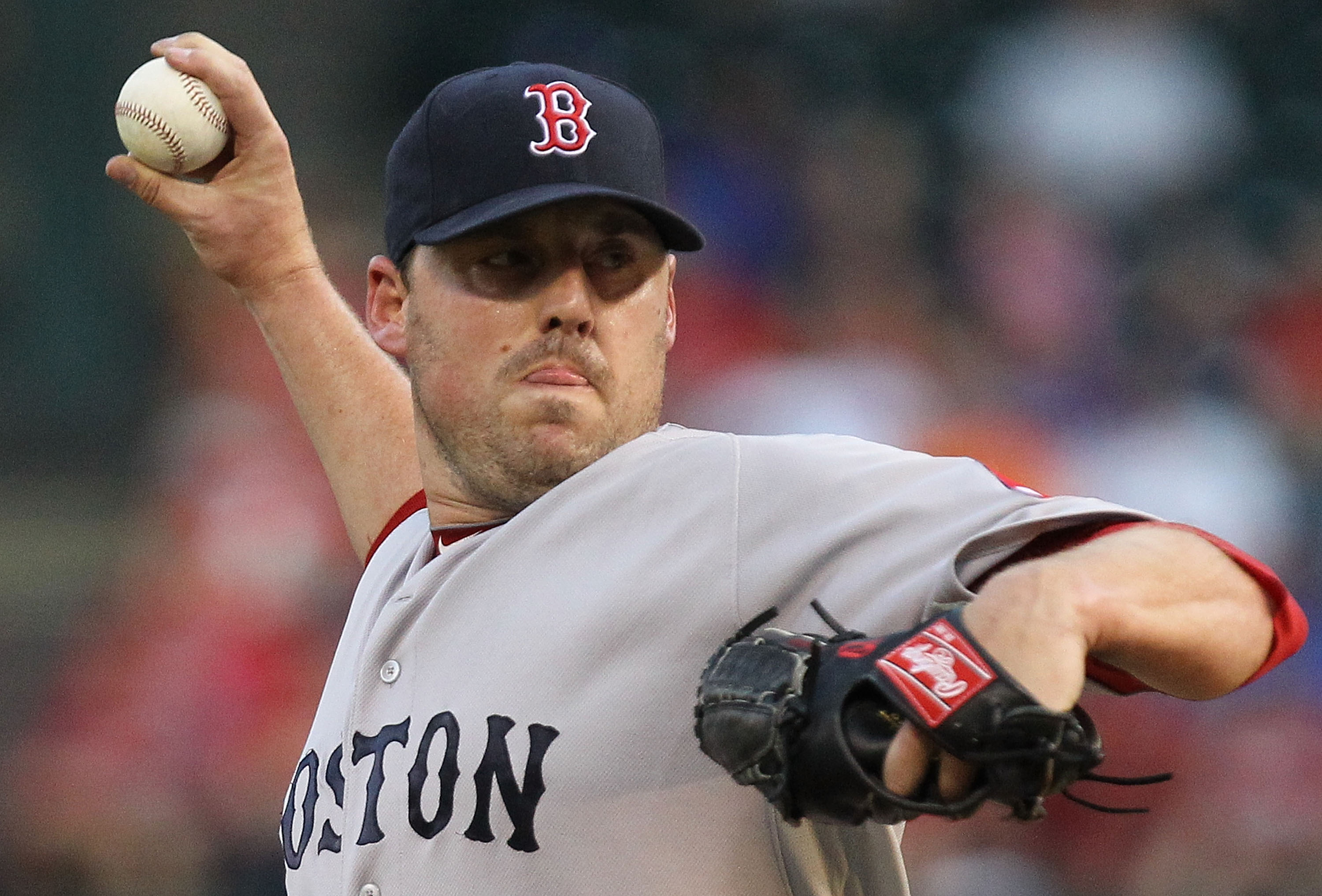 "Long is the way, and hard, that out of Hell leads up to light."-John Milton, Paradise Lost
            The unlikely success of the 2013 Boston Red Sox-losers of 93 games last season, winners of the AL Pennant this season-is not the only worst-to-first story to come out of Fenway Park this year. Quietly and consistently, John Lackey has been travelling his own road to redemption, and the next stop is the World Series.
            If one were searching for a single player who embodied the historic collapse of the 2011 Sox and the ensuing debacle that was the 2012 season, you could not make a better choice than Lackey. To see how far he has come, let's look at where he's been.
The Red Sox signed the free agent Lackey to a 5-year, $82.5 million contract following the 2009 season. His reputation as a tough competitor and big-game postseason pitcher (he won Game 7 of the 2002 World Series against the San Francisco Giants) was the crowbar that opened John Henry's checkbook. If the axiom that past performance is the best predictor of future performance held true, the Lackey acquisition was a sound investment.
The 2010 campaign saw Lackey post a 14-11 record, with a 4.40 ERA, a 1.41 WHIP, and 215 innings pitched. Not great, not bad, but probably not what Theo Epstein had expected. Having had the opportunity to observe him up close, there were grumblings that Lackey showed up his teammates, was out of shape and carried too much weight, and wore a perpetual scowl.
            In 2011, the wheels fell off completely and Lackey descended into a professional and personal hell. He pitched to a .500 record at 12-12, his ERA swelled to 6.41 and he gave up 114 earned runs, both career highs.  In the midst of the Red Sox Bizzaro World collapse it was revealed that Lackey had filed for divorce while his wife was being treated for breast cancer. Shortly after the Red Sox were eliminated from postseason play on the final day of the season, The Boston Globe reported that Lackey, along with fellow pitchers John Lester and Josh Beckett, spent a great deal of time in the clubhouse swilling beer, downing fried chicken, and playing video games. The coup de grace came when newly minted GM Ben Cherington announced that Lackey would miss the entire 2012 season rehabbing from Tommy John surgery.  In the space of two baseball seasons John Lackey managed to make himself the most unpopular man in New England. His signing seemed destined to go down as one of the worst in recent Red Sox history. Three years remained on his contract and he was owed almost $50 million.
            Lackey's 2013 began on a promising note. He arrived early to spring training and was in arguably the best shape of his career, having shed around 20 pounds during the off-season. New manager John Farrell and fellow starter Clay Buchholz both waxed optimistic in voicing great expectations for a man who, by his own admission, had a lot to prove and a millstone contract to justify.
            Lackey made his first start of 2013-and his first start since September 2011-in Toronto and pitched well before injuring his bicep and exiting the game.  He returned to Boston for an MRI and the shaky goodwill he had built up in spring training appeared poised to dry up, the off-season effort in vain.  It seemed like Lackey had reached the end of the road.
            The MRI revealed nothing more serious than a strained bicep.  Lackey was placed on the 15-day disabled list and rejoined the rotation.
            What has followed is the essence of an unlikely Hollywood script.  Lackey has been arguably the Sox most consistent pitcher this year.  Although his record at season's end stood at 10-13, it was more a function of meager run support than unsound pitching.  And his rehabbed arm pitched 189 innings and yielded a 3.52 ERA over 29 starts.  His absence from the 2013 AL All-Star roster was widely seen as unjust. He got the win over Tampa Bay in Game 2 of the ALDS and, most impressively, pitched 6+ innings of shutout ball and outdueled Justin Verlander in a pivotal Game 3 victory in the ALCS.
            What the statistics don't show is the depth from which Lackey had to ascend just to get his head above water. The effort to reclaim past form, past glories, and past promise is perhaps the heaviest lift any athlete must make.  All season he kept his head down and his mouth shut and went about his business.  Doubters and naysayers refused to concede that anything about Lackey had changed and that he would stumble and fall.  They had already punched his ticket out of town. But he has pulled off the toughest play in sports.  He has returned.
The way back has been long and hard, but he'll stand in the spotlight to pitch another day. His next start is in the World Series.  John Lackey has been redeemed.