Richard Sherman: The man, the myth, the Trash talk.
Updated: October 22, 2013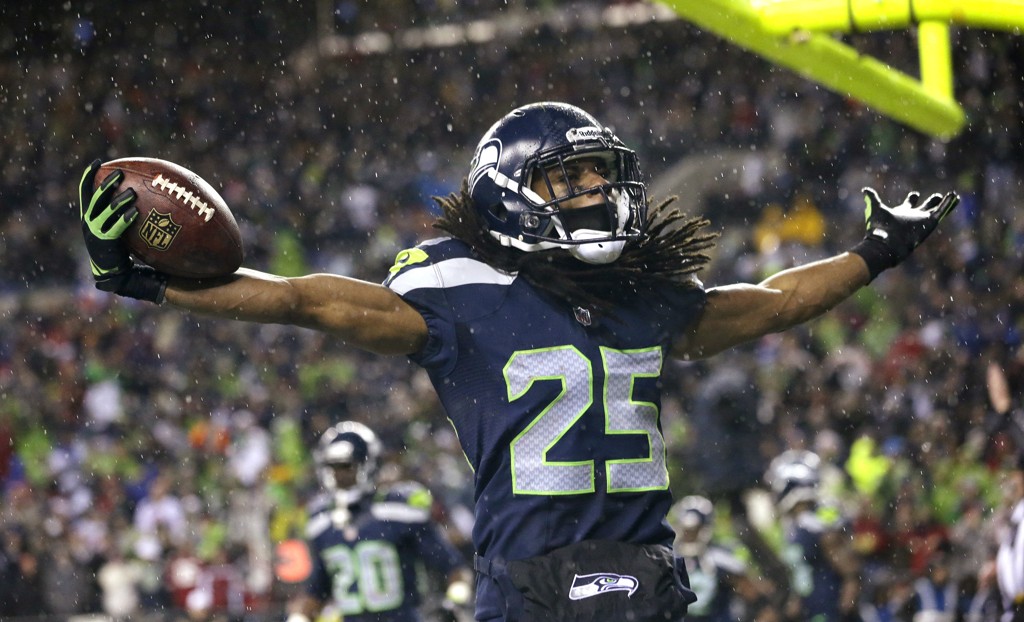 As a fan of the Seattle Seahawks and Seattle pro sports in general, my fellow fans and I aren't really used to a ton of success. Sure, we've had championship teams, but none in my lifetime. So skepticism and humility pretty much come with the territory. Don't get me wrong, we're VERY proud fans (as is evident by the turnout for the Seahawks and the Sounders in recent years). But I'd say trash-talk isn't typical of the fans or athletes on the sports scene in my native city. That, in itself, is what makes the athlete I'm about to profile, and the city's adopting him closely, so intriguing.
Enter Richard Sherman: a 3rd year cornerback the Seahawks drafted in the fifth round out of Stanford. He was actually a receiver for the majority of his career in college, and apparently Pete Carroll saw potential in the young man who could be utilized to excel at the other side of the ball. Since then, he hasn't looked back. He's totaled 15 interceptions and over 140 tackles, which are damn good marks for a man with such a short career so far. But while he is very well-known for outstanding play on the field, opposing players and coaches probably know him much better for his legendary mouth. 
Sherman's smack talk is definitely renowned across the league. He's gotten into bantering with future Hall of Famer Tom Brady ("you mad bro?" was a huge meme and twitter trend). He even nick-named himself "Optimus Prime" to be the antithesis of "Megatron", Detroit Lions receiver Calvin Johnson. This was basically a self-proclamation of him being the best corner in the NFL. Most recently he's even clashed with his former college coach Jim Harbaugh, as it's been documented the two don't have the sweetest relationship, and gave him a pat on the bottom after their last meeting this season. All of this would turn off just about any fan base, and I'm positive plenty of fans can't stand the guy. But that's just not the case in Seattle.
 "You gotta walk the walk if you talk the talk" is a well-known proverb, and man Sherman sure can walk hard. He has said himself that he likes to get in his opponents' heads, and it tends to work. He's shut down so many star receivers who are much more heralded than he is, which is nothing short of amazing. But surely, someone so brash, no matter how they play, is a sad sack of human being, right? Anyone but Sherman, though. Not to mention, because he has the prestigious tag of being a Stanford grad, Sherman's teammates absolutely love him, and so do the local fans. And that's not only due to his awesome exploits in football. Sherman is known for being outgoing and gregarious, and interacts with just about anybody. Most important, to me at least, is his efforts to provide for children who can't afford school supplies and clothes.  
Coming from Compton, California isn't exactly the Cleaver family story. Listening to NWA and Ice Cube only paint a small portion of the picture. While Sherman wasn't exactly raised in a broken home, it would be hard to ignore the poverty in his surroundings. Assisting education programs for under-privileged kids is crucial in giving those in the inner-cities or the less fortunate an opportunity that "the other side" is used to. It might be one of the best ways to help someone get in a position in the future to help themselves, and, in turn, complete the cycle by giving another kid that same opportunity.
I'm sure seeing the disparity of his hometown and the college community of Palo Alto at Stanford was a big motivation for his own Blanket Coverage foundation. Not to belittle the actions of others, but starting one's own organization with these goals is huge indicator of one's true character. Controversy and twitter feuds aside, I'd say Sherman is definitely a winner, both on and off the field.