Jameis Winston: Worth The Risk Of Drafting?
Updated: October 14, 2014
Sports in America are a dominating presence from one side of our great country to the other. Sports are big business here in the U.S., and our athletes are treated like Gods amongst men for the most part. The better an athlete is at a popular sport, the more leeway said athlete gets in regards to certain infractions the athlete may accrue. Whether is be at the professional level, college, or your local high school, some shenanigans is happening in America, and some troublesome athlete is getting away with it. Doesn't make it fair, definitely doesn't make it right that because an athlete entertains us that they should be above any law, but, such is life. One athlete that keeps popping up in the news consistently is Florida State's Heisman winning quarterback Jameis Winston.
On the field, Winston is everything you'd want in a leader and general. He's calm, great under pressure, takes command, and he's at his best when everything around him is at its worst. But when it comes to Winston off the field, it's basically a Dr. Jekyll and Mr. Hyde situation. The on-field General turns into a silly first year Private who cracks jokes during Personal Training and gets the entire squad in trouble. It's astounding how Winston is so different on and off the field. And with all we've seen and heard from his problems and accusations off the field, it would be one hell of a risk drafting this man to run your team for years to come. Is Jameis worth the headache?
The Talent At Quarterback Is Special…
Standing a 6'4 230 pounds, Jameis Winston is large in stature on the field, and he uses that huge frame to get the Seminoles in the end zone often. Winston has great vision, he has a good arm (his delivery is slow) and can drop the ball on a dime 50 yards away in the air without trying. He's a pocket passer who has the ability to create with his legs, ala Russell Wilson. And with his size he can take punishment and dish it out while scrambling to make things happen. When I watch Winston play I always feel like he's going to make something happen, and so far in his young career, he has.
His game winning drive in the National Championship game against Auburn was the pinnacle of last season's undefeated run to the title. The Seminoles destroyed every opponent they played last season until the Auburn game, and in the game they needed their leader the most, Winston came through in the clutch.
And it's these attributes that made NFL GM's want the young quarterback once this 2014-2015 college season was over. Winston has all the qualities on the field that makes a quarterback successful. He has size, instinct, plays better under pressure on the field, and when things in his life are crazy off the field, it does not hinder his game in slightest. He's a great athlete and would be a franchise quarterback for any team lucky enough to draft him. If off the field Winston was the kind of leader he was on the field, he would be the most coveted QB since Andrew Luck. Unfortunately for Winston and the GM's that want him, that does not seem to be the case.
To Draft or NOT To Draft, That is The Question…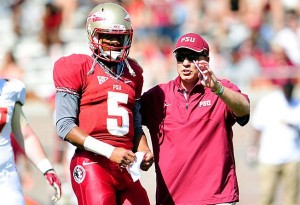 Before I continue, I want to make something absolutely clear, Jameis Winston is getting drafted in the first round of the 2015 NFL draft. I don't believe there is a chance in hell he slips out of the first round. Not with all the teams that have dumpster fire quarterbacks leading them right now. A team is going to take a chance on him, and that's a guarantee. If a GM passes on Winston, and another takes a huge risk and drafts him, and Winston matures into a great person off the field, the GM(s) that passed on him won't have a job for too much longer. And there in lies the problem for GM's around the league. Are they willing to roll the dice on a young man who's had so many off-field issues in such a short amount of time? If I were a GM, I would pass on him, but I'm not a GM.
I've watched sports long enough to know someone will draft Winston. Then the waiting game begins. Will the man you chose to be your new commander-in-chief turn out to be Russell Wilson and Andrew Luck off the field? Or did you just draft a Ryan Leaf/Jemarcus Russell hybrid? Again, only time will tell, but the red flags are screaming, "I told you not to do it" all over the place. Alleged rape, stealing crab legs, allegedly signing memorabilia for compensation, and Lord knows what else we have yet to find out about. That's a lot to take in for a player that's been in the public eye for just over a year. I don't think Jameis is a bad person, and maybe with the right guidance and veteran presence around him he can grow to be a great man on and off the field.
People deserve second chances. But who is ready to risk their career on the hopes that once he becomes even more famous playing on Sunday's, while making millions of dollars, it will calm him down and make him a less troublesome person away from football? Disposable income and 6 months off after the season ends may be a recipe for disaster in the wrong hands. We've already seen the NFL embroiled in a very messy off-season this year; they don't want to continue this trend. And neither do any teams in the league.
I am a fan of Jameis the player, and will always be grateful he helped my Seminoles to an undefeated season and a National Championship. And when he gets drafted to the NFL, I wish him well in his career. I hope he plays for as long as Peyton Manning and Tom Brady, and has just as much success on and off the field as both of those men have. But drafting him is a risk, and every GM who needs a quarterback in the 2015 draft must take a long look in the mirror and ask themselves the most important question of all, is he worth it? You're on the clock, NFL.
Follow @LSN_Frantz on Twitter