Albaggio's Week 6 NFL Picks Against The Spread
Updated: October 11, 2014
Let's do a quick recap of last week. I ended up going 8-6-1 ATS (against the spread) which was much better than the previous week in which I was 5-8. I blame Jay Cutler for being himself and gift wrapping that game to Carolina. When you have a 21-7 lead and an above average running back in Matt Forte, you need to put that game away. A lot of people are still confused when I use the phrase "back door cover." If you need any clarification go ahead and watch the highlights of the Eagles v Rams game in which at one point Philly was leading 34-7 in a game in which they were favored by 7 points. The final score you ask? Philly 34, St. Louis 28. That's right folks, the Eagles squandered a 27 point lead and failed to cover by 1 point. Hence the phrase, "back door cover." These games can go both ways.
The Philly example killed my pick. The Cleveland game proved good karma does exist when they proceeded to mount the largest comeback on the road in NFL history. The Browns were down 28-3 in the 2nd quarter to the Terrible Titans. I'm guessing head coach Mike Pettine used this mantra (Terrible Titans) during his halftime speech but I can't confirm that. The final score was Cleveland 29, Tennessee 28 in which the Browns covered because they were underdogs by 1 point. Hopefully this daily dose of the gambling glossary has enlightened you in a positive way. Now on to my Week 6 NFL picks.
(Home team is in ALL caps)
Colts (-2.5) over TEXANS
Thursday night NFL games have been the equivalent of a varsity team mauling a JV team through the first five weeks. I predict that trend changes this Thursday. The Colts have looked impressive the last three weeks behind MVP candidate Andrew Luck. Last week's win against a legit Baltimore team solidified Indy as contender in the AFC. The Colts have also handed me two consecutive losses in my picks column and I'm not comfortable with "the third time is a charm" motto so I'm taking Indy giving the 2.5 points. Besides, the Texans do have a certain QB named…..never mind, I'll leave the Amish Rifle alone this week. (Side note, this column was written Tuesday morning. When the score was 24-0 Indy I was happy the Colts were covering but I did predict a close game. JJ Watt and Arian Foster did their best to make that happen but in the end…….bahahaha. You guessed it. Fitzpatrick ended a last-minute 4th quarter drive with a fumble to end the game. Remind me to send that guy a Christmas card for all the material he has given me).
Jags (+6) over TITANS
Remember last week when I claimed that the Jaguars should NEVER be an underdog by less than a touchdown no matter the circumstances or who they were playing? Are you readers really going to hold me to that statement even though they are playing the Terrible Titans? This game gives me indigestion just thinking about it. When in doubt, I'm taking Blake Bortles getting the 6 as my out.
Ravens (-3) over BUCS
Could the Ravens blow this game against the resurgent Bucs' offense that has put up 55 points in the last two games? Absolutely. Have I forgotten about the Thursday night game when Tampa Bay was at one point getting beat 56-0? Absolutely not.
Broncos (-9) over JETS
I played some small time JV basketball in college out in the Midwest. Hearing the Geno Smith saga about being late to a team meeting because he forgot about the time change got me thinking. I wondered how that excuse would have fared if I used it. "Hey Coach Drake, sorry I missed film today, my mind was still on California time since I went home for Thanksgiving break. I had no idea I was back in a city that was 50 degrees colder and had snow all over the ground" (followed by me running 10 suicides for making such an idiotic excuse). God bless you Geno Smith, God bless you.
Pats (-3) over BILLS
I was scrolling over my text messages with a buddy who's a die-hard Bills fan during their game versus the Lions last week and one of the last ones I received as the game was ending said, "Orton played an amazing game! Just the one error (the pick 6)". I then forwarded that message to a buddy who's majoring in Mathematics at Caltech and asked him the probability of receiving that same text two weeks in a row. He replied, "…roughly 7.86%." And there you have it. Kyle Orton ladies and gentlemen…
BENGALS (-7) over Panthers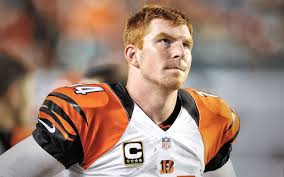 The Dirty Bengals are laying 7 big ones in this game huh? Something is fishy about this line. It's got Las Vegas written ALL over it. Usually when I get this feeling in my stomach I either A) have over indulged at Buffalo Wild Wings on endless Honey BBQ drumsticks and beer or B) Vegas knows something I don't. Since I'm writing this piece on an empty stomach I'm going with Option B. Those beautiful hotels and fountains weren't built on a bunch of winners hanging around there, I'll tell you that much.
BROWNS (-2) over Steelers
If you were to tell me at the beginning of the season that you were going to take Brian Hoyer over Ben Roethlisberger in a crucial game for the Steelers I would have drug-tested you for whatever Josh Gordon was smoking. Yet here we are in Week 6 and I'm going with the QB not named Johnny Manziel. Oh how the tides have turned.
Packers (-3) over DOLPHINS
I thought about taking the Dolphins for about five seconds then I remembered Rodgers crushing the 5th grade mock Spelling Bee after the Detroit loss: "R-E-L-A-X." You got it Aaron, I'll be on my couch Sunday drinking a C-O-C-K-T-A-I-L watching you throw TD's to my wide receiver fantasy stud Jordy Nelson.
VIKINGS (+1.5) over Lions
Would it surprise me if either team blew the other out of the water? Not really. There are just too many variables undetermined to get a good grasp on this game. The word is Megatron isn't going to play and if he does he will be a decoy at best and Reggie Bush is questionable with an ankle injury. Teddy Bridgewater looks like a go so let's take the Vikings and the 1.5 points and hope their rookie QB doesn't repeat his pro-day performance which was so bad that he fell about 25 spots too low into the Vikings lap.
Chargers (-7) over RAIDERS
The over/under on this game is 43.5. I'm not sure about the total points scored but I'll bet the over on 43.5 arrests during both the tailgate session and the actual game. I'm begrudgingly taking the Chargers giving the 7 points on the road only because Raider Nation is in shambles right now and I'm not sure if Derek Carr is going to quit at halftime because he was knocked on his backside too many times which in turn would enable Matt Schaub to start the second half and break his own Pick 6 record.
FALCONS (-3) over Bears
The Falcons and the Bears are like that insanely hot girl who none of your buddies could figure out how you pulled but everybody agrees, including yourself, it's just a matter of time before she screws you over in an epic manner. I'm taking the Falcons but remember the theme of this paragraph if it goes the other way.
SEAHAWKS (-8) over Cowboys
Back by popular demand from my readers, here's another Beverly Hills 90210 reference.
There's a hilarious scene in which Brandon is in full-on degenerate gambling mode watching a Laker game at the Walsh residence. Brenda walks in and asks Brandon a simple question and he lights her up like a Christmas tree because he is so distraught he's losing his bet. She responds with her own verbal lashing and then storms out of the room meanwhile Brandon is still yelling at the television set. Point being, don't bet against Seattle at home no matter the spread. You don't want to be the guy yelling at your 52 inch flat screen because you thought getting 8 points against the Legion of Boom and the loudest crowd in the NFL was going to hold up.
Redskins (+3.5) over CARDINALS
I can't figure out for the life of me why this line isn't at least Arizona -6. As I previously mentioned, usually when I feel this way about a game Vegas knows something that I don't. My intuition says the Cardinals cover but my parlay card is going to say something different. Damn you Las Vegas!!!
EAGLES (-2.5) over Giants
There will be no logic or statistical data applied to this pick. The fact is I'm a homer and am trying to reverse mush my beloved Giants. "It's my column and I'll do what I want to, do what I want to, do what I want to…"
49ers (-3) over RAMS
I praise Austin Davis last week and what do I get in return? That's right, the now infamous back door cover. Anybody remember a guy named Sam Bradford? Don't worry, neither does the Rams front office. The Rams always play the 49ers well at home so…..wait a minute. Why am I talking myself into the Rams when there's no way in hell I'm actually going to bet on them? My head hurts. Take the 49ers giving the 3 points and hope Michael Crabtree doesn't break his hand on Harbaugh's humongous jaw in frustration that he's not getting the ball enough.
Enjoy your weekend everybody and thank you for reading.
Last week: 8-6-1 ATS
Overall: 13-14-1 ATS