Arsene Wenger And His Three Reigns At Arsenal F.C.
Arsene Wenger is the legendary and embattled manager of Arsenal FC. I have no idea how it is at other clubs but I know at Arsenal FC, Wenger is a lightning rod figure.
His managerial tenure currently has a fan base divided seemingly down the middle on how they view him. There are the supports that continually cry for Wenger to be sacked and love using "Wenger Out" as their mantra.
The others want Wenger to stay and continue building the club back up to the standards Arsenal was accustomed to when Wenger first came to the club. Wenger's time at the club can be dissected in many different ways.
No matter how you view his tenure, it's been a career worth watching. A career worth admiring, one worth pitying, and one that should garner respect from football purist and lovers around the world.
His First Reign: Everyone Loves A Winner… 
When Wenger was introduced at Arsenal FC in September of 1996.  At the time, no one knew that Arsenal were hiring a legendary gaffer in the making.
Wenger did not win any trophies in his first season at Arsenal, but the following season was the start of something special. In 1997-1998 season Wenger and his Arsenal side won the club's first title in the Premier League era that began in 1992.
Manchester United was a juggernaut and had won the title 4 of the first 5 years that the Premiership was established. Arsenal wrestling away the trophy from Sir Alex Ferguson's side set in motion the back and forth between Wenger and Ferguson that would go on for the next seven seasons.
The Gooners and the Red Devils would trade trophies between one another and the chess matches between LeProfessor and SAF is stuff of legend.
In a 9 year span Wenger won three Premier League titles, Four FA Cups, Four Community Shields, and put together the only undefeated team in Premier League History, the mighty Invincibles. Everything was right with the world at Arsenal.
That all came to an end on May 22nd 2005, the day after the FA Cup Final win against Manchester United. May 22nd began Era number two of Wenger's reign, the Dark Ages.
Wenger's 2nd Reign: The Rains of Castamere…. 
Wenger and Arsenal's second Reign was Akin to that of Eddard Stark's and Winterfell in Game of Thrones.
Anything that could go wrong went wrong. And just like Ned Stark, Wenger's epic fall from grace was based on his honor, his loyalty, and a philosophy that was outdated. Both Wenger and Stark had their vision on what was right and just.
For Wenger, his philosophy on not over paying for players in the transfer market and believing he was still able to compete by continually finding diamonds in the rough no longer worked.
This new footballing world was full of financial heavy weights like Roman Abromovich and Sheik Mansour.
Men that made sure the quickest way to victory was spending big, early and often.
While Wenger tried to keep his young players focused on just playing attractive football, other clubs were offering something more attractive, opportunity.
Those owners offered the opportunity to be paid handsomely with other top footballers while competing for trophies.
Everyone wanted to follow Real Madrid's Galactico's system, while Wenger wanted to continue his Barcelona philosophy of grooming players through the Arsenal ranks.
But Wenger didn't possess the loyalty from his squad like that shown at Barca with Lionel Messi, Xavi Hernandez and Adreas Iniesta.
One by one the players Wenger needed in order to continue his footballing revolution bailed on him. First he lost his stalwarts in Patrick Viera, Ashley Cole and Thierry Henry.
Then the mass exodus of players ensued.
Players who Wenger propelled into stardom: Gael Clichy, Samir Nasri, Cesc Fabregas, Alex Song and Robin Van Persie. While Wenger watched as the players he turned into stars leave season after season, Arsenal became less and less relevant in the footballing pantheon.
Arsenal were playing in a shiny new stadium, they were playing the same brand of football they always played, but not with the same caliber of players they once had.
Players like Gervinho, Marouane Chamakh, Nicklas Bendtner, Sebastien Squillaci, Denilson, Andrei Arshavin and countless others were asked to steady the ship. The list of players I just named did not belong in an Arsenal team just a few seasons removed from the mighty Invincibles.
But alas, this is what Wenger had to work with at a cash strapped Arsenal using transfer and gate revenues to pay off the Emirates.
With the drought in full force, and Arsene Wenger watching as his Rival SAF move on to another rivalry with Chelsea's Special One Jose Mourinho, Arsenal became a joke.
Arsenal were never truly a threat and rival fans and managers never left Arsene or the Gooners forget.
Yet, even with a chance to jump ship himself with opportunities to coach Spanish Juggernauts Real Madrid and Barcelona, as well as newly wealthy Paris Saint Germain in his native France, Wenger refused.
Wenger was going to see Arsenal out of these Dark Ages. And although Wenger lost many class players, little by little he was building a squad that would once again bring the Gooners back to prominence.
In the past Wenger had relied on imports from around the world like Gilberto Silva, Giovanni Van Bronckhorst, Nicolas Anelka, Robert Pires, Freddie LJunberg, Dennis Bergkamp and the aforementioned Henry and Viera. Wenger had to chang his philosophy.
Wenger quietly began assembling a core group of talented British youngsters to spear head his new Arsenal. With this group comprising of Jack Wilshere, Theo Walcott, Kieran Gibbs, Aaron Ramsey, Alex Oxlade-Chamberlain and Carl Jenkinson.
With those players Wenger planted the seeds of future success. He also found players like Bacary Sagna and Laurent Kolscieny in France, proving he still had that legendary eye for talent. He went out and purchased Santi Cazorla and Per Meetesacker as well during the Dark Years.
But the team was young and raw. Patience was needed. In the process of all this, Wenger was managing to keep his team in the top 4. A testament to Arsene's greatness. But top 4 is not good enough at Arsenal.
It also didn't help that along the way there were games like the Red Wedding Massacre of 8-2 at the hands of Manchester United, and the 4-4 tie at New Castle.
It was results like these that cast Wenger's future further into doubt.
But Wenger endured the criticism, took it in stride, and fought for his team. A team he saw the talent in. Wenger just need more time.
What Wenger didn't realize is that it's not just more time he needed, he also needed someone thing to excite the supporters. He needed to do something to bring joy to the Gooners again.
Every Arsenal supporter and player needed to know that Wenger was serious about winning trophies. We needed something or someone special…we needed…Mesut Ozil.
Wenger's Third and Current Reign: In Arsene We Still Trust…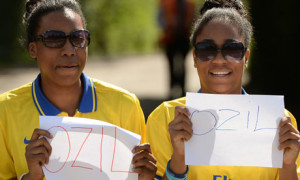 Two memories as a Gooner always stick on my head.
First, the Arshavin goal against Barcelona in the Champions League to give Arsenal the 2-1 win.
And on the last night of 2013 summer transfer window when Mesut Ozil finalized his transfer from Real Madrid. I can comfortably speak for every Gooner when I say that it was one of the greatest nights ever to be an Arsenal fan.
This is what Arsenal needed. This is what the fans needed.
We needed to know Wenger was still about something more than finishing fourth every year and selling players. And it made us feel even better that it was at the expense of hated rivals Tottenham Hotspurs. Now Arsenal needed a trophy.Any trophy.
With Ozil and the emergence of Ramsey, Arsenal got off to a great start in the 2013-2014 campaign.
By the time the New Year rolled around Arsenal were sitting atop the league.
But in typical Dark Ages fashion, the Gooners were ravaged by injuries.
Week after week Arsenal were losing their strong hold on all their possible trophies. Arsenal missed out on the Carling Cup, Bayern Munich knocked them out of Europe, and a string of defeats including a 6-0 nil drubbing at Stamford Bridge by Chelsea on Wenger's 1000th match in charge sealed their Premier League fate.
The last hope for a trophy was the FA Cup. Although Arsenal had a pretty tough run in, Wenger navigated his squad to the FA Cup Final where in dramatic fashion they came back from down 0-2 to win 3-2 in extra time with a goal by one of the players Wenger turned into a world-class midfielder Aaron Ramsey.
Finally, after 9 long barren years without a trophy. After all the naysayers, the jibes, the Specialist in Failure remarks, the Wenger Outs, the splits fan base. After 9 horrible seasons, Wenger finally lifted another trophy.
And Gooners around the world rejoiced for him. At the FA Cup parade the next day Wenger said, "The curse is broken.
It took a long time but we finally broke the Emirates curse." And he's right. The Arsenal trophy jokes are now put to bed. And now Wenger no longer has the drought in his way.
Arsene Wenger was on top of the world during his first reign, hit rock bottom with the club during his second reign, and now in his third reign, he's going to make the club as great as it has ever been.
It's likely any other manager would have been sacked in Wenger's situation, and maybe rightly so.
But it was not in the cards for Wenger to leave on a low note.
Who ever his successor is, they will be taking over a club that will have trophies in their cabinet. Trophies that Wenger and the current squad won as a family.
Congrats Mr. Wenger, and continued success. And as always, "In Arsene We Trust."
Follow @LSN_Frantz on Twitter