It's Fantasy Draft Time…Are You Ready?
So your fantasy football draft is today. You're probably in an 8-12 man standard league, and you've studied all the cheat sheets, sleepers, busts, rookies, and rankings. The one thing you haven't studied as much is your actual draft strategy. You can do as many mock drafts as you want, but it's tough to get a real feel of a draft when you're pretty sure to have a mock draft terrorist who picks Jeremy Shockey first overall, and ruins the whole thing. Here is your sure-fire formula to drafting a solid fantasy football team. 
Running Backs Are Key…
The first round is all about running backs, with a few exceptions. If you have any pick in the top 6, you should be picking a running back. In my opinion there are four running backs that are far and above better than the rest: LeSean McCoy, Adrian Peterson, Jamal Charles, and Matt Forte (in that order). After that, Marshawn Lynch and Eddie Lacy should go 5 and 6. "But Jackson, why would I pick Eddie Lacy over Peyton Manning?" It's all because of depth in position. Realistically there is only one quarterback necessary per roster. Last year, Manning had one of the greatest seasons of any quarterback in history, and there's 0 chance that it will happen again.
If you figure that Manning will drop from 400 points last year to around 350 this year, he's not significantly better than any mid level quarterback out there, not nearly enough to be picking him in the first half of the first round. The running back position is much less deep, and if you don't snatch up your first two running backs in the first 3 or 4 rounds, you're screwed. If you fall towards the end of the first round, the only non-running backs taken should be Manning, Calvin Johnson, and Jimmy Graham.
Wide-Outs Are Your Second Best Option
If you went running back first, go wide receiver second. Demaryius Thomas, AJ Green, Dez Bryant, Brandon Marshall, and maybe even Julio Jones or Jordy Nelson are all viable options for your first wide receiver, and now's the time to pick them. Wide Receiver is a much deeper position than running back, but having one of these top-tier receivers is huge. If you picked one of the three "others" in the first, you NEED to go running back, because you've already waited too long.
More Running Backs and Wide Receivers…But Maybe An Elite QB?
Rounds 3 and 4 should be rounding out your running backs and wide receivers. Guys like Zac Stacy, Le'Veon Bell, Montee Ball and Alfred Morris should get picked up in the third round as your second running back. If you do that, you wait until the fourth and you pick up a Randall Cobb, Andre Johnson, Larry Fitzgerald, or Vincent Jackson. At this point, notice how I haven't made much mention of quarterbacks and tight ends. Obviously, if cream of the crop guys like Rodgers, Brees, Manning, Graham, Julius Thomas or Gronk, (depending on his health progression) falls into the fourth round or beyond, you pick them immediately.
But that won't happen, so you're going to wait. You're going to wait to the middle rounds to pick a tight end, because after the top 3 it drops into a pretty tight pool of average tight ends. As for quarterbacks, you should be open to anything. If you see a quarterback in the second tier dropping a bit further than expected, then pick him up. If nothing comes to notice, wait it out and pick someone like Phillip Rivers, Jay Cutler, or Tony Romo. They are solid, consistent quarterbacks, who will get the job done, and have the potential to have some big games here and there. 
So More Backs And Wide Receivers?? Why Not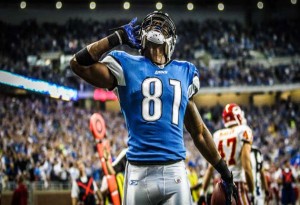 Rounds 5-14 should be 100% running backs and wide receivers, with a QB and tight end mixed in. There's no need to have a backup tight end, and unless there's a real steal at quarterback, you don't need a backup QB either. Somewhere around round nine someone will pick up the Seahawks defense, which will start a frenzy of defensive picks. Don't bite; I've taught you better than that. Someone will also go and pick Matt Prater far too early. Don't bite on that nonsense either. 
Kickers Need Love Too
Round 15 is for kickers. At this point the top 5 or 6 kickers will have been picked. Some good options for late round kickers include Robbie Gould, Nick Novak, Alex Henry, Nick Folk, and Matt Bryant. Basically, you want to be picking a kicker with a good offense. Round 16 should be all defense. Many people think I'm crazy for waiting until the last round, but this strategy has never led me astray. What you have to look for is a defense with a favorable matchup for week 1.
Look at the Pittsburgh Steelers, who are playing the Cleveland Browns, or the Chicago Bears who are playing the Buffalo Bills. You can swap out defenses every week if you like, until you find that defense that's going to give you constant production. Last year, I saw a favorable matchup with the Carolina Panthers defense who I picked up off waivers. They ended up being the second best defense in the NFL. 
So that's how to draft a fantasy football team that will have phenomenal running backs and wide receivers, an average QB, an average TE, a good kicker, a good defense, and a stacked bench.
Again, any questions, comments, concerns, complaints, whatever, hit me on twitter: Follow @ShutUpJackson on Twitter