Arsene Wenger And The Arsenal Supporters Divide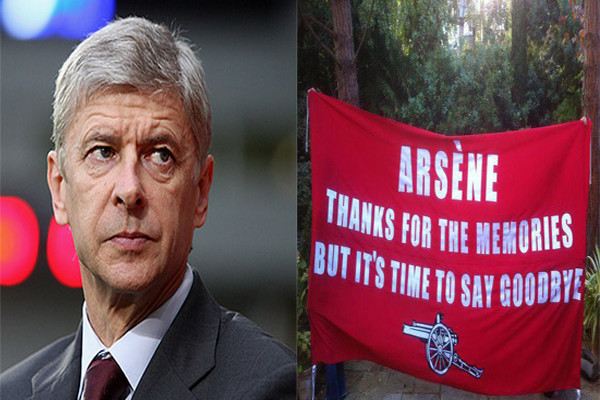 I have never been a part of a fan base so split down the middle on issues as I am being a supporter for Arsenal F.C. It's basically an internal war being fought between supporters before and after every single game.
The bickering continues until the next game starts, then the supporters are all aligned as one again.
On Match Day, certain members of the fan base refuse to be anywhere near social networking sites when Arsenal loses. It's a sad state of affairs right now for loyal Gooners across the globe.
The biggest divide for Arsenal supporters stems from one major issue, legendary manager Arsene Wenger. 
Everything ends and begins with Wenger when it comes to the bickering, and he is the nexus of all of it. 
At Arsenal we have two sorts of fans, we have the "Wenger Out" lot, and the "Shut up with your Wenger Out Non-sense he's a legend" group. The Wenger Out crowd love and respect Wenger for what he's done since he took over in 1996.
In his first 500 games he won English Premier League titles, FA Cups, led the Invincibles to an undefeated season, and has yet to miss qualifying for the Champions League. 
Unfortunately in his last 500 games the only thing he's been able to accomplish on the field is getting Arsenal into the Champions League every season and never finishing out of the top 4.
It's literally been a tale of two halves for Wenger at Arsenal with his 1000th game in charge being the debacle at Stamford Bridge with Chelsea dismantling the Gooners 6-0.
The calls for Wenger's head by the "Wenger Out" committee have never been louder than they are this season, and the question the other side has is always the same one, if not Wenger, then who exactly? 
Yahoo Sports put out a story on the managers that could succeed Wenger if he were to call his time on Arsenal, and the list has some big names like Pep Guardiola, Jurgen Klopp, Joachim Loew of the German National team and even Brendan Rodgers of Liverpool. 
There are a lot of good managers in the world, and certainly one day Wenger must pass the reigns of Arsenal to someone else similar to how Sir Alex Ferguson did with Manchester United when he gave his seat to David Moyes.
Using Moyes as an example of why Wenger should not leave and give Arsenal to another manager is careless and is far too conclusory. This is Moyes' first season at a huge club and he is following in the footsteps of a legend.
He has a subpar midfield, he has a subpar backline, and his strikers have been in out of form and the injury room all season. He needs more time to implement his style and get the players he believes can help Man U regain their prominence.
But the Man U fans are already asking for Moyes head and this is coming after a season where they won the EPL Title.
How much leeway will Arsenal's next manager be given before there are calls for his head? Especially if Arsenal have not won the EPL title in a decade? Look at some of the managers on that list.
Who's to say Jurgen Klopp wants to come to England and coach Arsenal? He may love his work at Dortmund and is enjoying developing his young stars while trying to conquer Europe.
Pep Guardiola is the head of a Futbol powerhouse in Bavaria and there is no reason for him to leave Munich any time soon.
Loew is the manager of one of the best National teams on the planet in Germany and I don't believe he will leave the German national team regardless of the outcome of the World Cup this summer.
And again, even if he does, who's to say he wants to coach in England? And Brendan Rodgers is already coaching an English giant, why switch to another when he's trying to build his own Wenger/Ferguson like legacy?
Asking Wenger to leave is one thing, but asking Wenger to leave and having pipe dreams for is successor is something completely different. 
I am hearing names like Diego Simeone and Roberto Martinez thrown about as well. Although I think both managers are very good, they may need time to settle in.
Simeone is a young coach and has never won anything and has never coached in England, so he would need some time to adapt.
Martinez would be a good successor but he's never been under pressure to do more than keep his teams out of the relegation zone and finish 17 or above.
How will he fair under the bright lights of Emirates and questions being asked of him worldwide by loud Arsenal supporters and constant media scrutiny during a poor run of form? 
No one will know the answers to these questions until Wenger is gone.
This season Arsenal was ravaged by injury during the worst possible time, after the New Year.
The injuries took a serious toll and with Wenger not purchasing replacements and getting his tactics wrong in games against Liverpool and Chelsea, it seems like the Wenger Out crowd might have their way soon.
Arsenal are not out of the title race mathematically but it will take a major collapse at the top for EPL title to find its way to the Emirates.
The best Arsenal can hope for now realistically is a top 4 finish and an FA Cup trophy, but even with that, for a large portion of the supporters, that is still a failure of a season. 
I will leave both sides with this, I am a fan of at least one team in every professional American sport, and I have some teams that I root for that have not won a trophy since 1994-1995.
Keep in mind in the U.S. there aren't 4 tournaments with the ability to raise trophies like there is in European Football; you either win it all in one competition or you go home empty-handed and start all over again next year.
Maybe that's why I am not too broken up about the trophy drought.
I have experienced droughts with teams that have only one trophy possible.
Loading ...
If Arsenal wins the FA Cup this season under Wenger then we should all enjoy it, and cherish the trophy. Root for your club no matter what and support the players and the manager until they are no longer part of the organization.
There is no saying Wenger's replacement will be anywhere near as successful as Wenger was.
The old adage, "be careful what you wish for" is true in every facet of life, and your sports teams are no different.  
Let's see what the future holds for Wenger and Arsenal, I will be rooting and supporting regardless. 
And as always, no matter how unpopular the Wenger Out people feel about it, "In Arsene We Trust."
Follow @LSN_Frantz on Twitter